Cosmetic Dentistry
Your smile is one of your most valuable assets. Unfortunately, many things can mar the appearance of your smile, including teeth that are crooked, chipped, or discolored.
Andrew G. Mortensen, DDS is a talented dentist serving patients from Fountain Valley, Huntington Beach and all of Orange County. Whether a simple teeth whitening is required, or a smile makeover, Dr. Mortensen can create a personalized treatment plan at our practice to address your dental issues and help you smile with confidence.
Teeth Whitening
Everyone feels more confident with a beautiful, dazzling white smile. Dr. Mortensen can brighten the smiles of patients from throughout Huntington Beach and Orange County using professional teeth whitening systems designed to erase stains left behind by aging, coffee, cigarettes, soft drinks, and even medications. Our array of teeth whitening options lets our patients choose the system that's best for them.
At-home Teeth Whitening
If you choose a take-home whitening system, Dr. Mortensen will custom make a teeth whitening tray for you during your initial visit. You will continue treatments at home by placing whitening gel in the tray and wearing it over your teeth for the prescribed amount of time until your teeth reach the desired level of whiteness. Once your treatment is complete, you will visit us for a follow-up appointment.
Zoom!2® In-Office Teeth Whitening
We also offer Zoom!2® in-office teeth whitening, which can give you a dazzling white smile over your lunch break. Made by Discus Dental, Zoom!2® offers improvements over the popular Zoom!® line of professional, in-office teeth whitening treatments, including faster whitening and reduced tooth sensitivity. During the hour-long treatment, a whitening gel is applied to the teeth and a special light is used to activate the gel's whitening power. The gel is then removed to reveal your brighter, whiter smile.
Some patients like the convenience of a take-home system, while others prefer to visit our Orange County practice, near Huntington Beach, for an in-office teeth whitening treatment. To learn more about your teeth whitening options, schedule an appointment at our dentistry practice. Dr. Mortensen is happy to discuss the features of each system with our patients.
Dental Bonding
Dental bonding offers a quick and easy way to bring a dramatic change to your smile. Dr. Mortensen uses bonding to hide any flaws your teeth may have by adding a thin, sculpted layer of composite resin to the front and sides of your teeth. Dental bonding is a simple solution to a variety of common dental complaints, including the structural weakening of teeth. The material can be used to cover teeth that are cracked, chipped, or worn down, and is also a good choice to cover deep stains that may be difficult to remove through teeth whitening. Because dental bonding can be used to widen or reshape teeth to reduce gaps, it is often used during a smile makeover as an alternative to porcelain veneers.
The Dental Bonding Process
The process of dental bonding is simple, but the results depend upon the skill and artistry of the dentist. After preparing the tooth surface, Dr. Mortensen applies a putty-like bonding material that is then sculpted, shaped, and colored to suit your needs. A high-intensity light is used to harden the material, and the new surface is smoothed and polished. This resin composite material strongly bonds to your natural teeth, expands and contracts just like real teeth, and blends in perfectly with surrounding teeth.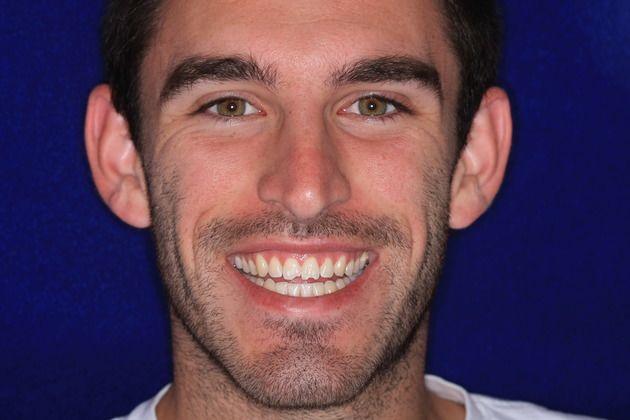 Before
After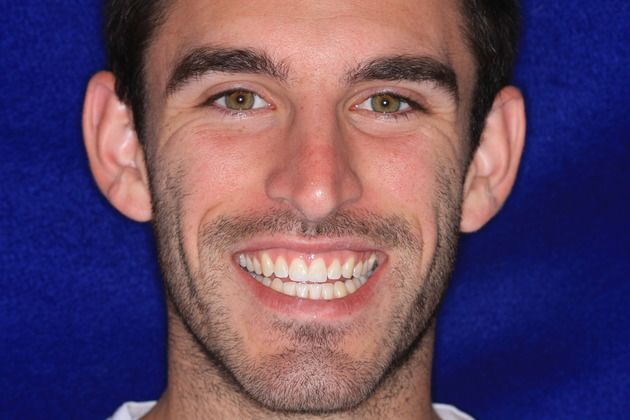 Smile Makeover
Many patients come to us wanting to beautify their smile, but they aren't sure which procedures are best for them. For patients with multiple dental issues, a smile makeover may be the best choice. During a smile makeover, we can combine two or more procedures to address multiple problems. At our Fountain Valley office in Orange County, a smile makeover evaluation can be performed by Dr. Mortensen to help his patients decide which cosmetic dentistry options can help them obtain the results they envision.
The Smile Makeover Process
Your unique needs will determine the course of your smile makeover. To begin the process, Dr. Mortensen will examine your teeth and speak with you about your goals. He will then create a personalized treatment plan to help you achieve the look you want. He can replace old metal dental work with tooth-colored fillings or porcelain crowns, and he can cover imperfections with porcelain veneers or dental bonding. For patients who have missing teeth, Dr. Mortensen may suggest natural-looking dental implants. As a finishing touch, many patients also decide to undergo teeth whitening after other smile makeover procedures are complete. Dr. Mortensen also offer sedation dentistry to help his patients remain comfortable and relaxed during treatment, allowing him to complete multiple smile makeover procedures in a single visit. If you are interested in transforming the appearance of your smile through cosmetic dentistry, contact our Fountain Valley practice in Orange County to schedule a smile makeover consultation with Dr. Mortensen today!
Contact Dr. Mortensen for a Smile Makeover
There are many ways we can give you a youthful, attractive, and natural-looking smile! Dr. Mortensen, has a friendly chairside manner and is experienced in a variety of cosmetic dentistry procedures. If your smile falls short of what you would like to present to the world, don't wait.Schedule an appointment at our Fountain Valley office near Huntington Beach in Orange County for a smile makeover consultation. Teeth whitening, dental bonding, and other cosmetic dentistry options can be combined to give you the smile you have always wanted.
Message
Our Staff
Reach out to us today to set up an appointment and strengthen your oral health.
"

I am proud to have served patients in our community. Through continuing education and state-of-the-art equipment, we are able to offer you and your family the high level of care you're looking for.

" Andrew G. Mortensen, D.D.S.
18837 Brookhurst St
Ste 109
Fountain Valley, CA 92708
Open Today 7:30am - 4:30pm