Porcelain Veneers
If you are hesitant to smile because you are embarrassed about the appearance of your teeth, we recommend that you consider porcelain veneers. They can be used to mask imperfections including chips, discolorations, and even slight misalignments. Veneers are crafted of stain-resistant, natural-looking porcelain, and they are strongly bonded to your natural teeth. At Dr. Andrew Mortensen's Fountain Valley practice in Orange County, porcelain veneers are a popular choice among his patients who want to rejuvenate their smile.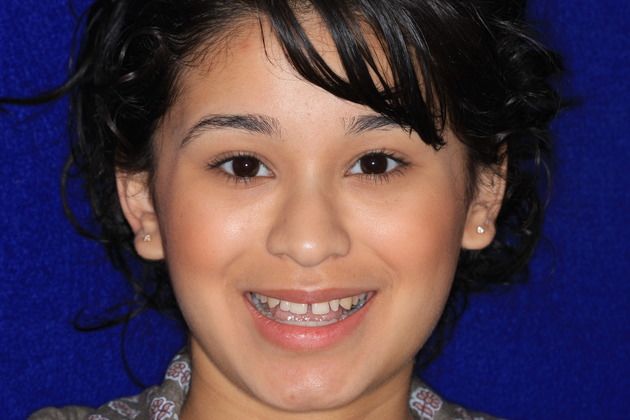 Before
After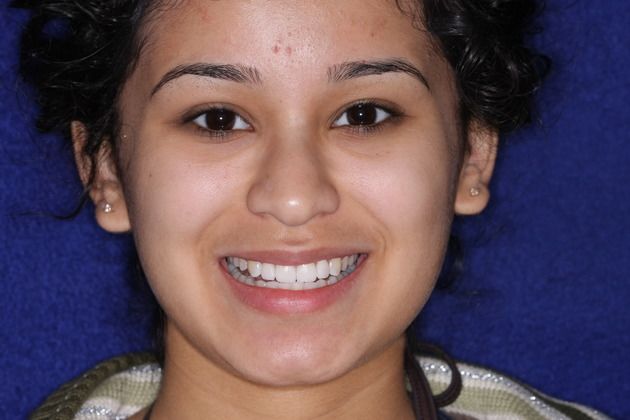 Benefits of Porcelain Veneers
A dental veneer is an ultra-thin shell of porcelain that is custom made to fit snugly over the front of a tooth. Because the veneer is made from translucent porcelain, light shines through to the natural tooth, resulting in an extremely natural appearance. Dr. Mortensen can adjust the color of the veneer to match surrounding teeth, and in most cases, it is difficult to tell the difference between a tooth that has a dental veneer and one that doesn't.
Porcelain veneers can be used to address a variety of dental problems that might otherwise require multiple treatments. Veneers can be used to cover teeth that are cracked, chipped, or discolored. A veneer can also be used to change the shape or width of a tooth to fill in small gaps or correct slight misalignments. Porcelain veneers also help lend strength to damaged teeth in a similar way to that of crowns. Gaining beauty does not mean the loss of strength – quite the opposite!
Dr. Mortensen can place one veneer to improve the appearance of a single tooth, or he can place veneers on all of the front teeth for a smile makeover. During an evaluation at Dr. Mortensen's Fountain Valley practice in Orange County, he will discuss porcelain veneers in greater detail and help you decide if they are the right dental solution for you.
Placing Porcelain Veneers
Placing porcelain veneers typically takes two appointments. During the first appointment, Dr. Mortensen prepares the tooth that will receive the veneer. He removes about half a millimeter of the front surface of the natural tooth to accommodate the thickness of the veneer. He then makes an impression of the prepared tooth, which is used to craft the veneer. Dr. Mortensen will place a temporary veneer to wear on the tooth until the permanent veneer is ready. During a second appointment, he will bond the permanent veneer to the tooth. The result is a beautiful, natural smile that requires no special upkeep.
Contact Our Practice for Porcelain Dental Veneers
Many patients who have come from throughout Orange County to our Fountain Valley office for porcelain veneers have been thrilled with the difference they make. You can choose to have a full smile makeover with a full set of porcelain veneers, or you can improve the aesthetics of even just one tooth. We will work with you to determine the scope of treatment that's ideal for you. Schedule an appointment with Dr. Mortensen today to find out if you are a good candidate for porcelain dental veneers.
Message
Our Staff
Reach out to us today to set up an appointment and strengthen your oral health.
"

I am proud to have served patients in our community. Through continuing education and state-of-the-art equipment, we are able to offer you and your family the high level of care you're looking for.

" Andrew G. Mortensen, D.D.S.
18837 Brookhurst St
Ste 109
Fountain Valley, CA 92708
Open Today 7:30am - 4:30pm