Tooth loss can have a major impact on your confidence as well as your oral health.
Dental implants are titanium posts that replace missing tooth roots and support crowns, bridges, or dentures in a natural-looking way.
Our dentist, Andrew G. Mortensen, places and restores implants at our Fountain Valley, CA, practice...
You Don't Have To Live With Tooth Loss
Tooth loss can affect your oral function, making it difficult to eat and speak properly. Tooth loss can also lead to other issues, such as TMJ disorder. Dental implants can restore your oral function once more. Call our Fountain Valley dental practice today to schedule a consultation and find out if dental implants are right for you.
"Dr. Mortensen and his staff are incredible! I have been going here for years. I simply won't go anywhere else. The level of professionalism, knowledge and expertise, courtesy and friendliness is off the charts!"

Lesli Bonanni
Why Choose Dental Implants?

Dental implants offer tremendous benefits over traditional tooth replacement options. When you choose implants, you can enjoy:

Natural-Looking Results

Dr. Mortensen conducts careful planning and uses the most advanced dental materials to create custom implant restorations for patients. In most cases, implant-supported restorations are indistinguishable from your natural teeth.
Enhanced Function

In contrast to dentures that shift and slip, implant-supported restorations stay put. With dental implants supporting your restoration, you can chew on the toughest foods, speak with confidence, and enjoy living life to the fullest again.
Implants Protect Your Jaw
Dental implants are the only restorative dentistry procedure that can stop and prevent jawbone atrophy that occurs after tooth loss. This can save you from needing bone grafting later in life and can prevent further tooth loss that can occur when the jawbone begins to deteriorate.
What Our Implant Patients Are Saying
Schedule Your Dental Implant Consultation

Dr. Mortensen Is Ready to Meet You
Is tooth loss making you feel self-conscious? Dr. Mortensen has over 30 years of dental experience and is also accredited by the top dental organizations, including:
American Academy of Cosmetic Dentistry
American Dental Association
California Dental Association
Orange County Dental Society
Additionally, he has earned the distinction of Best Dentist in Orange County and Opencare Patients' Choice Winner. To learn more about dental implants at our Fountain Valley, CA, practice, schedule a consultation with Dr. Mortensen. Contact us online anytime or give us a call at:
"...by Far the Best Dentist I Have Seen!"
Read Our 5-Star Reviews
Dr. Mortensen is a fantastic doctor! He is by far the best dentist I have seen!!! I definitely recommend him to anyone. His work won't disappoint you!!
View On Google
Dr. Mortensen is great! He added educational value to my visit and it was very helpful & much appreciated! Also the entire staff is very polite and very helpful! Thank you!
View On Google
While implants are an excellent restorative option for many patients with missing teeth, not everyone qualifies for this treatment. During your initial consultation at
our Fountain Valley, CA, dental practice
, Dr. Mortensen will examine your mouth to determine if you are a candidate for dental implants. Factors your dentist will consider include:
Jawbone Density
Dental implants require a foundation of dense, healthy bone tissue. Patients who have suffered bone loss may require bone grafting before they can be a candidate for dental implants.
Overall Health
You must be in good health in order to undergo implant placement. Issues such as uncontrolled diabetes can affect your ability to properly heal, which can lead to implant failure. Dr. Mortensen will carefully assess your health during your consultation to be certain that this solution is a fit for you.
Oral Health
If you have gum disease or tooth decay, preparatory treatments such as extractions and periodontal treatment may be required before you qualify for dental implant placement. This is necessary to ensure a healthy foundation for your implants and restorations.
Tobacco Usage
Tobacco can inhibit your body's ability to heal and can be bad for your oral and overall health. It is best to stop smoking before implant placement to reduce the chances of implant failure. This can also reduce your chances of other dental issues later, and help your implants to last 40 years or longer.
"I put my full trust in them."
"I am a person who hates absolutely hates to go to the dentist. However I saw Dr Mortenson today with his stuff and I have to say I have truly never met a better group of people for the office staff is all amazing and friendly and kind and Dr Mortenson himself makes you feel like you've known him forever and he's very wise. I put my full trust in them and I'm so looking forward to To having the rest of my dental work done. I cannot believe I'm actually writing this! Lol I've never looked forward to going to the dentist, However I'm not terrified of Dr Mortenson!"

Joyce Allen
Wondering what to expect during dental implant treatment?
Dental Implant Treatment Timeline

The Journey to a New Smile
To evaluate your candidacy and build your custom treatment plan, Dr. Mortensen will begin by conducting a dental exam and imaging. Our Fountain Valley office is equipped with the latest technology, and we use 3-D digital x-rays and cone beam computed tomography (CT) images to understand your dental anatomy, assess your jawbone health, and plan the best location for your implants.
Thanks to our personalized approach to dentistry, each treatment plan is designed according to your unique needs. However, here are some general steps to expect during the dental implant treatment process at our Fountain Valley practice.
Once your final restoration is in place, you can use your crown, bridge, or denture just like you would use your natural teeth...
Take a Closer Look at the Implant Placement Process
Creating Beautiful Smiles
With Dental Implants
This patient suffered from loose teeth and large gaps, making it difficult to eat. After dental implants and a full mouth rehabilitation, she now has fully restored oral function.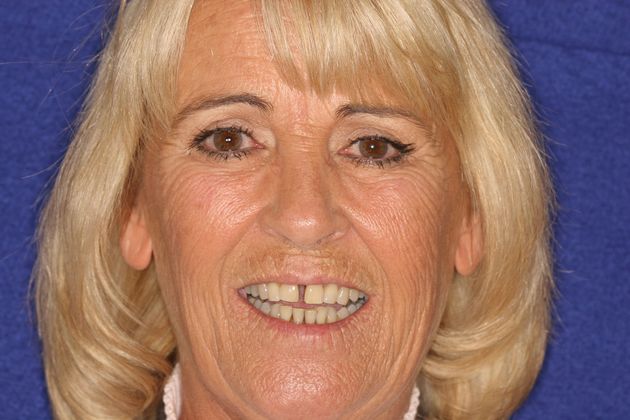 Does Implant Placement Hurt?
No. During your treatment, your dentist will numb the treatment area so you are completely comfortable during your procedure. For those with dental anxiety, or those who have difficulty sitting comfortably for long periods, our Fountain Valley dental practice offers oral conscious sedation. This is a medication that is given to you before treatment. You will remain conscious but deeply relaxed throughout treatment. It is important to remember you will need a ride home after your treatment—you will not be able to drive yourself.
Ready to Take the Next Steps?
Contact our Fountain Valley dental practice today
We understand that tooth loss can take a serious toll on your quality of life, which is why we are glad to offer many dental treatments to restore your bite. Tooth loss is more common than you may think, but that doesn't mean you have to live with it. Dental implants are a landmark restorative treatment that can allow you to chew and speak properly once more. We are here to guide you every step of the way on your journey to a beautifully restored smile. Contact us using our online form or call us today to take the first step.
"I Have Been Coming Here Since I Was a Kid."
Dr. Mortensen Has Received Hundreds of 5-Star Reviews
I have been coming here since I was a kid. Now I bring my kids. The office staff is friendly and wonderful and we love Dr. Mortensen. He's the best!!!
View On Google
Dr Andrew Mortensen has been the #1 Dentist in Orange County. That is just one reason I drive from San Clemente to Huntington Beach to be treated by him and his professional team. I recommend Dr Mortensen highly to everyone who is looking for a fabulous dentist
View On Google
Real Patients
Real Results
More Satisfied Fountain Valley Patients
Dr. Mortensen and staff are the best! I've recommended a lot of people here and everyone loves them.
View on Google
Always a five star experience. Great dentist with exceptional staff.
View on Google