The Five Stages of Tooth Decay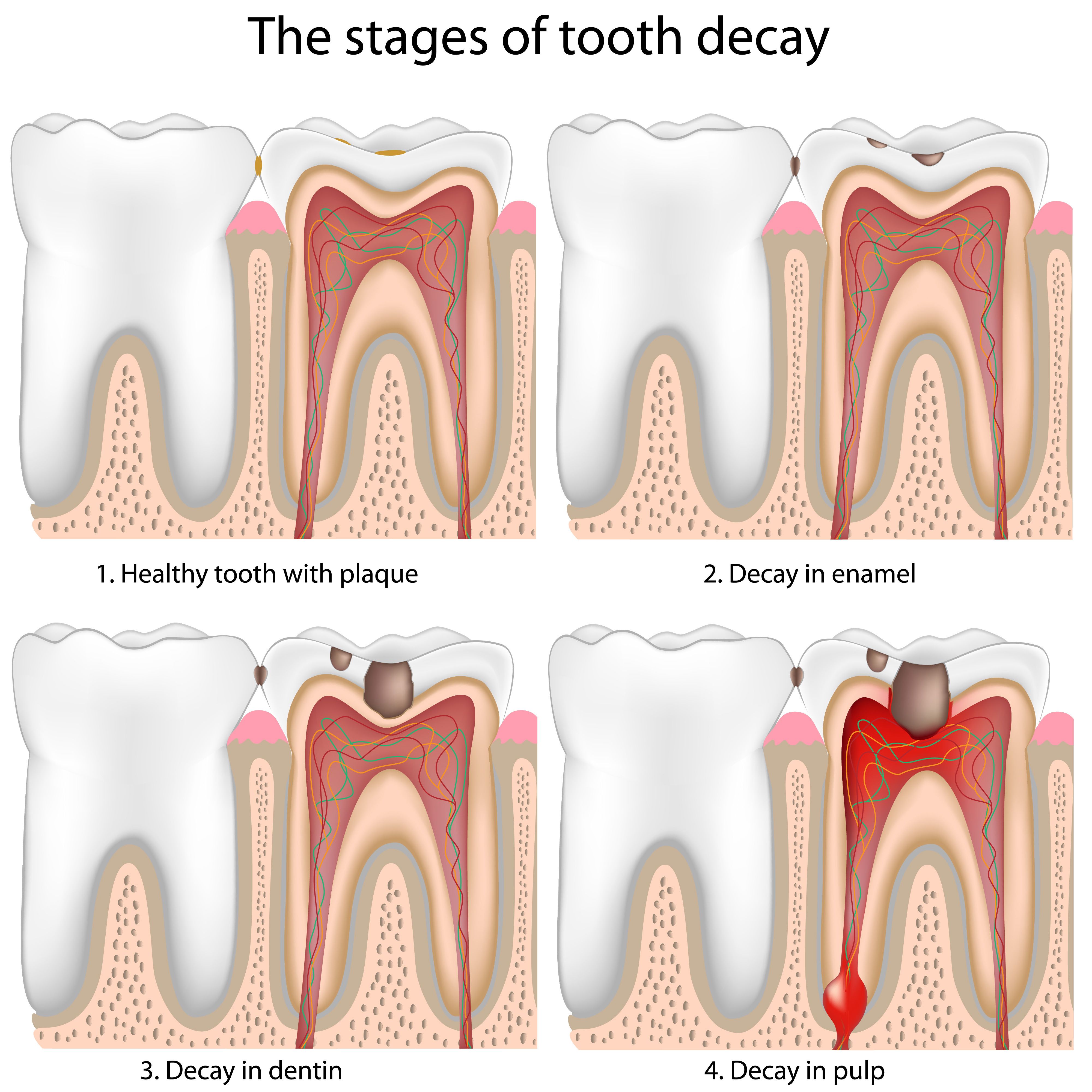 At the office of Andrew G. Mortensen, D.D.S., we combine state-of-the-art technology, the finest in modern materials, and expertise in the broad range of dental sciences to offer comprehensive care, from restorative dentistry to full smile makeovers. We provide everything you need to achieve and maintain outstanding oral health and a stunning smile. This includes all of the education you require to take the best possible care of your teeth and gums between your regular visits to our practice. We want to empower you to be an active participant in your dental health so that you can avoid such issues as tooth decay.
One of the most effective ways to prevent tooth decay is to know how to detect it in its earliest stages, before it has a chance to spread and do serious damage. As a patient of our practice, you can expect Dr. Mortensen to inform you about the stages of tooth decay at our Fountain Valley, CA cosmetic, restorative, and general dentistry practice. He will provide you with this knowledge so that you can schedule an appointment to see him as soon as you become aware of potential tooth decay or any other possible issues with your teeth or gums.
If you would like to learn more about how we can help you maintain excellent oral health for a lifetime, please schedule your initial consultation with Dr. Andrew G. Mortensen today.
What Are the Stages of Tooth Decay?
Tooth decay occurs in five stages, each becoming progressively more severe and destructive. In its earlier stages, tooth decay produces less obvious symptoms, which is why it is important to visit our practice at least twice a year for thorough oral exams. Dr. Mortensen is able to diagnose the early stages of tooth decay even if there are no easily visible symptoms and treat it before any permanent damage is done to the teeth.
The five stages of tooth decay are:
Demineralization: At this stage, a tiny portion of the outer enamel of the tooth will become demineralized, which will appear as a white or brown spot. It may be possible to remineralize the tooth and reverse the damage if tooth damage is diagnosed at this point.
Enamel erosion: During this stage, the dentin underlying the enamel becomes exposed. This dentin contains openings to thousands of microscopic tubules, which lead to the root canals at the centers of the teeth. Within the root canals, there is a substance called dental pulp, comprising nerves, blood vessels, and nutrients. Tooth sensitivity is therefore possible. At this point, there are still many treatment options available, including tooth-colored fillings, inlays, onlays, or crowns, depending on the extent of the decay.
Damage to the dentin: Dentin is more vulnerable to damage than enamel, so bacteria will cause it to erode more quickly. Time is of the essence at this stage. If dental care is sought quickly, it may still be possible to treat the tooth with a filling, inlay, onlay, or crown.
Dental pulp infection: If the decay reaches one or more of the root canals, the dental pulp will become infected. At this point, the pulp must be surgically removed to save the tooth. After the pulp is removed, the root canal must be disinfected and filled with a replacement substance, and the tooth must be covered with a dental crown to prevent further damage.
Abscess formation: If root canal surgery is not performed in due time, an abscess will form. Infection can then spread to the jawbone, the gums, and adjacent teeth. Only professional intervention will stop damage from spreading at this point.
Learn More about the Stages of Tooth Decay
To learn more about the stages of tooth decay, please contact our cosmetic, restorative, and general dentistry practice today.
Related to This