Five Signs Your Dentures Need to Be Replaced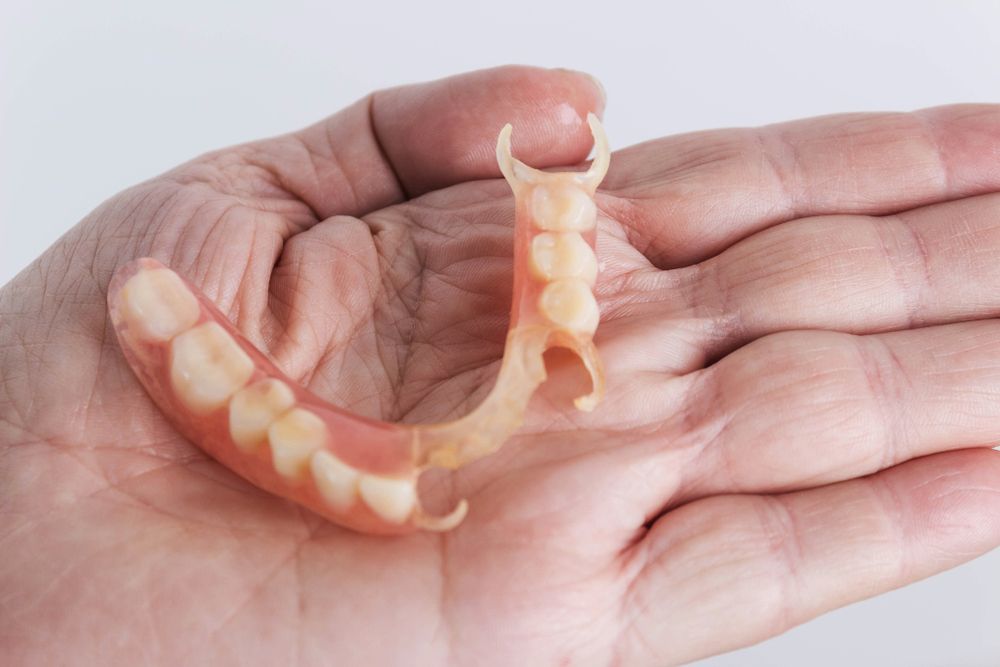 Tooth loss compromises the strength, function, and aesthetics of the smile. Fortunately, there are several restorative dentistry treatments that address tooth loss to restore the integrity of the smile.
When excessive tooth loss has occurred, dentures tend to be the most appropriate treatment option. Dentures can replace up to an entire arch of missing teeth with just a single restoration. While dentures are constructed of very strong and durable materials, they do have a limited lifespan.
Here, experienced dentist Andrew G. Mortensen goes over five common signs your dentures need to be replaced at our Fountain Valley, CA dental practice.
Dentures No Longer Look Clean
Dentures are made to match the color of the patient's natural teeth. That being said, dentures are probably not going to be bright white, as that would look unnatural. However, dentures will look like a clean, healthy set of teeth, and they should not be stained or dingy.
Although dentures are resistant to stains, they can become aged and discolored over time. If a patient notices that his or her dentures no longer look clean and fresh, even after being soaked and cleaned overnight, it may be time to consider replacement. A new set of dentures can restore a clean and healthy-looking smile when old dentures become worn.
Dentures Feel Loose
A lot of jokes are made about loose dentures that fall out when a person eats or drinks, but the truth is that dentures are meant to be close-fitting. A properly designed set of dentures will fit securely in the mouth so that a patient can chew, speak, and laugh without worrying about dentures slipping out of place.
Unfortunately, the shape of the mouth does gradually change over time, especially if tooth loss causes the jawbone to deteriorate. If dentures do not feel comfortable or secure, it is time to look into a new set of dentures. New dentures will be designed using updated molds of the patient's mouth to ensure a close, comfortable fit.
You Are Experiencing Chronic Pain
Chronic pain is a common sign that dentures need to be replaced. If dentures no longer fit properly, it can put excess pressure on the jaw bone, and particularly the temporomandibular joint, or TMJ.
Over time, patients can develop TMJ disorder, along with the painful symptoms that go along with it. Unfortunately, since many patients do not link jaw pain, facial pain, or headaches to their dentures, this warning sign is often ignored. Patients that are experiencing chronic pain or oral discomfort should schedule an exam to see if it is time to have their dentures replaced.
You Are Suffering from Halitosis
Halitosis describes a case of chronic bad breath. If it is difficult to keep the breath smelling fresh, no matter how often you clean your mouth and dentures, it may be time for a replacement.
The foul smell that patients experience may actually be coming from the dentures themselves. As they age and become worn down, dentures can develop tiny hairpin fractures that hold on to bacteria and allow odors and colors to absorb into the dentures. A new set of dentures can help these patients enjoy the clean, fresh breath they desire.
Dentures Are Chipped or Broken
If your dentures have become chipped, cracked, or broken, it is a pretty obvious sign that they need to be replaced. Broken dentures will not only compromise the strength and function of the smile, they also leave the gums and any natural teeth vulnerable to decay and infection. It is important to see Dr. Mortensen as soon as possible after dentures have become damaged.
Contact Us
If you think it may be time to replace your current set of dentures, contact us at your earliest convenience to set up an exam with Dr. Andrew G. Mortensen. Dr. Mortensen will be happy to answer any questions you may have about dentures replacement and how you can benefit from a new restoration.
Related to This