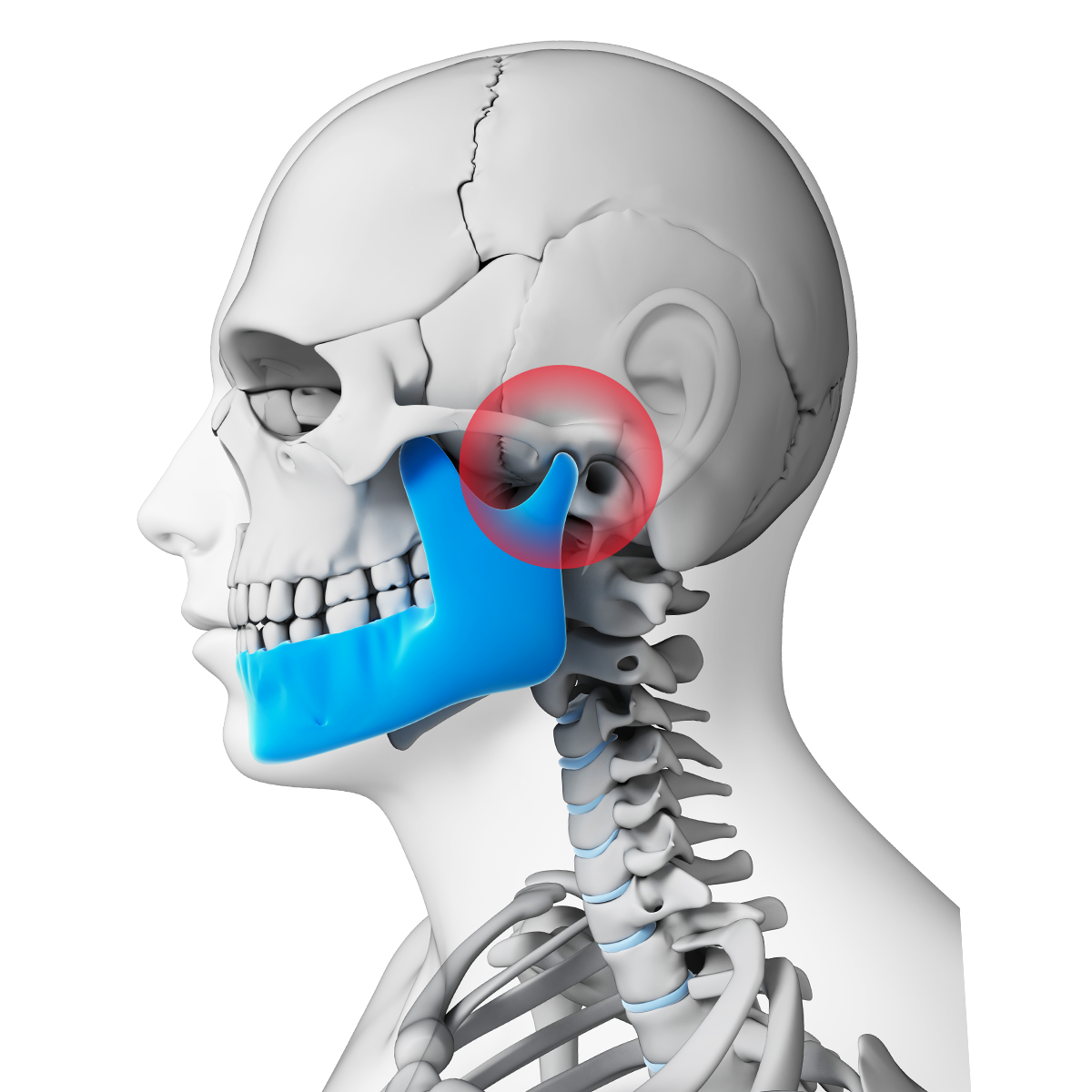 Your lower jawbone relies on the temporomandibular joints (TMJs) for proper movement and function. When the joints do not properly align, a serious and often painful condition called TMJ disorder can arise. Dr. Andrew Mortensen can diagnose and treat this condition.
If you experience jaw pain, difficulty chewing, or any other TMJ symptoms, schedule an examination with Dr. Mortensen at our Fountain Valley, CA, dental practice. TMJ disorder is a serious condition, but it is highly treatable, especially when care is put in the hands of an expert dentist like Dr. Mortensen.
Common TMJ Symptoms
TMJ disorder is a complex condition that can have a wide range of causes and symptoms. Part of this is due to the fact that the TMJs are a complex network of muscle, bone, and various connective tissues. The proximity of these joints to the ears and surrounding structures can cause symptoms to manifest in many different areas.
Patients should report the following symptoms to Dr. Mortensen. Following an examination at our Fountain Valley, CA, dental practice, your treatment can begin promptly.
Jaw Pain
TMJ disorder disrupts the normal function of the joints that connect your lower jaw to the sides of the skull. Over time, the condition often causes discomfort and jaw pain. For some patients, the discomfort can be constant. Others may experience jaw pain only during certain periods of the day, like in the morning or after eating. A third possibility is discomfort any time you move your jaw. If you experience frequent jaw pain, let your doctor know immediately.
Chipped or Worn Teeth
While the exact relationship is not fully understood, many people who are diagnosed with TMJ disorder also suffer from teeth grinding (bruxism). In some cases, bruxism may be the cause of jaw pain. In other cases, bruxism may arise due to the presence of TMJ disorder.
Since TMJ disorder and bruxism often co-occur, signs of one may indicate the presence of the other. Common symptoms of bruxism can include: cracked, chipped, or worn teeth. Dr. Mortensen will look for these dental problems during your regular checkup or exam at our Fountain Valley, CA, dental practice.
Symptoms Near the Jaws
It is not uncommon for TMJ symptoms to manifest in nearby areas of the head. Because the jaw joints are so close to the ears, this disorder can trigger periodic earaches or tinnitus.
Headaches or neck and shoulder pain can also result from TMJ disorder. If you experience frequent headaches and cannot determine the cause, let Dr. Mortensen perform an examination at our Fountain Valley office.
Other Symptoms of TMJ Disorder
TMJ disorder can lead to difficulty opening the jaws. Some patients report a popping or clicking sound when they open their mouths. Another potential symptom is difficulty sleeping or daytime fatigue. Jaw pain or other TMJ-related symptoms can impede sleep. If you have difficulty focusing during the day, jaw misalignment issues may be one cause.
Schedule Your TMJ Treatment Today
Although TMJ disorder cannot necessarily be cured, the symptoms are easy to manage. Once Dr. Mortensen has diagnosed the cause of your jaw problems, he can apply techniques from neuromuscular dentistry to treat the symptoms. To schedule your TMJ diagnosis, please contact our office online or call (888) 471-3735.
Related to This